Arrangement of the Transportation Service for Returnees
To prevent the spread of the coronavirus, the ministry has laid out guidelines and requiring transport operators to adhere to when transporting passengers who are returning to Japan from overseas.
We have taken steps to ensure all the guidelines are being followed, so as to ensure the safety and comfort of our passenger.
The following measures are already in place to help prevent the spread of the coronavirus;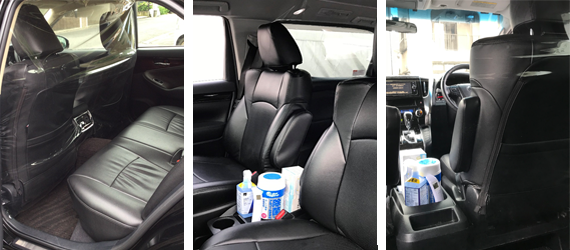 ・ A shielding sheet has been installed to create a partition in the cabin, and it is mandatory for drivers to wear a mask at all times.
・ All our drivers are required to go through a thorough health management regime, along with implementation of temperature screening when reporting to work, frequent hand washing and gargle.
・ Vehicle cabin is thoroughly sterilized with alcohol at the start of the trip.
・ Hand disinfectant has been prepared in the cabin for our passengers use.
・ The vehicle cabin is kept ventilitated with windows slightly opened during the trip.
・ Conforming to safe-distancing measures, we have been advised to dispatch a sedan for 1 passenger use, a minivan being recommended for 1-2 passengers and using a full-size van for 3-4 passengers.
| Course | No. of Pax | Rate (one-way) | Inclusion/Exclusion | Reserve |
| --- | --- | --- | --- | --- |
| Narita (NRT) ⇔ Central Tokyo | ~4 | ¥26000 | Toll fee included | |
| Haneda ⇔ Central Tokyo | ~4 | ¥15,000 | Toll fee all included | |
| Haneda ⇔ Greater Tokyo | ~4 | ¥16,000~ | Toll fee all included | |
| Haneda ⇔ Kanagawa | ~4 | ¥16,000~ | Toll fee all included | |
| Haneda ⇔ Chiba | ~4 | ¥15,000~ | Toll fee all included | |
| Haneda ⇔ Saitama | ~4 | ¥18,000~ | Toll fee all included | |
| Haneda ⇔ Ibaraki | ~4 | ¥40,000~ | Toll fee all included | |
| Haneda ⇔ Gunma | ~4 | ¥50,000~ | Toll fee all included | |
| Haneda ⇔ Tochigi | ~4 | ¥50,000~ | Toll fee all included | |
| Haneda ⇔ Nagano | ~4 | ¥80,000~ | Toll fee all included | |
| Haneda ⇔ Yamanashi | ~4 | ¥50,000~ | Toll fee all included | |
| Haneda ⇔ Shizuoka | ~4 | ¥50,000~ | Toll fee all included | |
| Haneda ⇔ Aomori | ~4 | ¥220,000~ | Toll fee all included | |
| Haneda ⇔ Akita | ~4 | ¥195,000~ | Toll fee all included | |
| Haneda ⇔ Iwate | ~4 | ¥190,000~ | Toll fee all included | |
| Haneda ⇔ Yamagata | ~4 | ¥170,000~ | Toll fee all included | |
| Haneda ⇔ Miyagi | ~4 | ¥140,000~ | Toll fee all included | |
| Haneda ⇔ Fukushima | ~4 | ¥110,000~ | Toll fee all included | |
| Haneda ⇔ Niigata | ~4 | ¥80,000~ | Toll fee all included | |
| Haneda ⇔ Toyama | ~4 | ¥170,000 | Toll fee all included | |
| Haneda ⇔ Ishikawa | ~4 | ¥180,000~ | Toll fee all included | |
| Haneda ⇔ Fukui | ~4 | ¥195,000~ | Toll fee all included | |
| Haneda ⇔ Gifu | ~4 | ¥140,000~ | Toll fee all included | |
| Haneda ⇔ Aichi | ~4 | ¥150,000~ | Toll fee all included | |
| Haneda ⇔ Shiga | ~4 | ¥180,000~ | Toll fee all included | |
| Haneda ⇔ Kyoto | ~4 | ¥190,000~ | Toll fee all included | |
| Haneda ⇔ Osaka | ~4 | ¥190,000~ | Toll fee all included | |
| Haneda ⇔ Mie | ~4 | ¥165,000~ | Toll fee all included | |
| Haneda ⇔ Nara | ~4 | ¥200,000~ | Toll fee all included | |
| Haneda ⇔ Wakayama | ~4 | ¥220,000~ | Toll fee all included | |
| Haneda ⇔ Hyogo | ~4 | ¥220,000~ | Toll fee all included | |
| Haneda ⇔ Tottori | ~4 | ¥240,000~ | Toll fee all included | |
| Haneda ⇔ Okayama | ~4 | ¥240,000~ | Toll fee all included | |
| Haneda ⇔ Shimane | ~4 | ¥260,000~ | Toll fee all included | |
| Haneda ⇔ Hiroshima | ~4 | ¥260,000~ | Toll fee all included | |
Points to take note when making a booking
● No booking is completed when there is no booking confirmation issued accompanied with a receipt of the payment.
● Please do also notify us in advance when there is any passenger travelling with a wheelchair. This is also to ensure that we have sufficient space for the storage of the wheelchair into the vehicle.
● There may be instance where we change the type of the vehicle, this is to ensure that all baggage can be loaded into the vehicle. It is therefore necessary that you let us know in advance that you will be travelling with excessive baggage.
● All our drivers have been trained to greet our customers in basic simple English and Mandarin. However please do that note that they are not qualified English interpreter. If you do require the service of an accompanying professional interpreter, please let us know in advance so we can make the necessary arrangement. Additional fee is required for the arrangement of the professional interpreter.
● Payment for the vehicle hire service is to be paid in advance.

● Cancellation Policy for Special Rate for Returnees:
・Cancellation notice received less than 24 hours, 100% penalty
・Cancellation notice received less than 48 hours, 50% penalty
・No show or could not clear immigration due incomplete document, 100% penalty
・However if you have been tested positive for the on arrival Antigen Rapid Test(ART), the penalty wil be waived provided that you notify our office (or the driver) immediately once you received the ART test positive result.
・To make changes to the booking such as the pick up date or pick up time, you must notify us during office hours at least 24 hours in advance, or there will be a penalty.

● For more information on vehicle hire and services, please contact:
TokyoTransfer.com
Tel: +81-3-5678-8098 Email: info@TokyoTransfer.com
Monday to Friday (09:30am~5:00pm Japan time, exclude weekends & public holidays)

If you have a question regarding the service offered, you can use the Contact Us button below to send in your inquiry:
See Our Full-day Sightseeing Routings